Registration Info
for the U.P. Builders Show
Every spring, nearly seven thousand people from across the Upper Peninsula attend the U.P. Builders Show to see what products and services exhibitors at the show have to offer. If you're looking to meet new customers, make connections in the industry, and take your business to the next level, this is the event where you can make it happen! Download the registration form & contract.
U.P. Builders Show Registration Info
BUILDERS SHOW EXHIBITOR CRITERIA: Exhibitors must be a construction-related business. Retail companies must bring construction/building/home-related products. If you are unsure whether your business qualifies, contact the show coordinators.
BOOTH SIZES AND DESIGN: See the registration form for booth sizes, as they vary. Blue enclosure drapes and 110 electric power are included in the booth fee. Back drape panels are 8' high and side panels are 3' high. Exhibitors may construct their own walls, but they must not block the view of adjoining vendors. See the map for the booth layout. If you wish to have deeper booth space, please contact the show coordinators.
PAPERWORK REQUIRED: After completing the registration form and supplying the required documents, exhibitors will be mailed or emailed a contract packet which includes their assigned booth number, optional items list, booth worker request list, and other important information which needs to be returned in order to complete the registration.
OUTDOOR DISPLAY SPACES: Five outdoor display spaces are available at the south entrance of the Dome for $200 each. Each one accommodates a large company vehicle, a semi-truck, trailer or equipment display. They are available to registered exhibitors only. If more than five businesses want an outdoor space, the U.P. Builders Show Committee will choose five on January 10, 2020 based upon various criteria, including types of exhibits, past displays, and adding variety to the show entrance area.
CENTER OF THE SHOW DISPLAY: The main focal point of the U.P. Builders Show is the center display booth which can be sized as 24' x 60' x 8' or 36' x 36' x 8'. The approved display must be walk-through and see-through, have floor protection and be fully accessible with 10' wide walking aisles. Preliminary designs must be submitted to the U.P. Builders Show Committee for approval by January 10, 2020. If interested, please contact the show coordinators for details.
COMPANY LISTING W/LINK ON WEBSITE: Exhibitors will be listed on the NEW www.upbuildersshow.org website with a link to their website, email address or social media page.
BOOTH AWARDS: There are four Top Booth Awards: Single, Double, Multiple & New Vendor. From those winners, a Best of Show will be awarded who will receive a free single booth in next year's show. All Top Booths will have an opportunity to speak with the press about their business and award-winning booth and will be featured on the U.P. Builders Show Booth Awards website page and in social media. Each will receive a plaque to display in their booth all weekend and at their place of business after the show. Start planning early to win! Watch for upcoming information about how to design your booth for maximum results. See the website for past winners!
RAFFLES: Free raffles and giveaways are encouraged. No cash raffles will be allowed during the show including any games, 50/50 drawings, or selling tickets for non-profits other than those invited by the U.P Builder Show Committee. A non-profit exhibitor may accept donations with no ticket/raffle involved.
BUILDERS SHOW BUCKS: NEW raffle this year! At the end of each day of the show, we will be awarding one lucky attendee $1,000 in Builders Show Bucks, to be used only at participating exhibitors' booths. When the Bucks are redeemed, simply contact the Show coordinators for your $1,000 check! It's that easy!
HOSPITALITY ROOM/PIZZA PARTY: There will be a hospitality area on the 4th floor media deck where exhibitors can take breaks and enjoy free refreshments. A pizza party for exhibitors will be held on Friday night at 9 pm in the center of the dome. It is free of charge. The party is a great time to meet with other businesses in the show. Sponsorships are available.
SPECIAL HOTEL RATES FOR EXHIBITORS: Check www.upbuildersshow.org for the complete list, including hotel amenities and rates. The list will also be provided to exhibitors after registration.
BOOTH LAYOUT MAP:
View at www.upbuildersshow.org
ADMISSION:
$5 – Adults & Students (13 & older)
$4 - Seniors (age 65 & over)
Free—Children (12 & under)
BUILDERS SHOW HOURS:
Friday 5 -9 pm
Saturday 10 am - 8 pm
Sunday 11 am - 4 pm
Have Questions?
Please contact:
Jennifer Lammi
Executive Director
Marquette Builders Exchange
906-225-1216
jen@mqtbx.org
Sarah Schultz
Executive Officer
Home Builders Association of the U.P.
906-228-2312
info@upbuilders.org
Connect on facebook
2020 Sponsors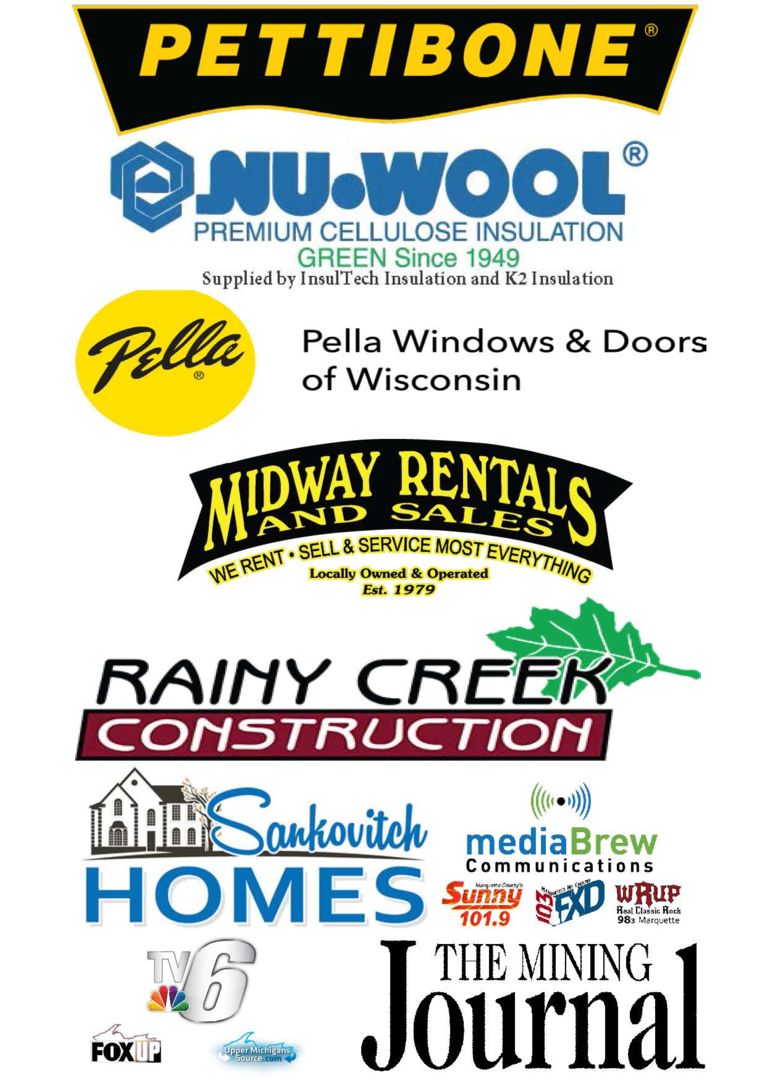 Map
NMU Superior Dome
1401 Presque Isle
Marquette, MI